Friday, 16 November 2012
Friday, 2 November 2012
Introducing Windows 8 Available on all Mesh PCs
Introducing Windows 8
Experience the beautiful, fast and fluid touch-friendly design for yourself.
New start screen
Your content all in one place: With Windows 8 and a MESH PC your contacts, social media updates, emails and calendar are right where you need them to be.
Personalize your PC and tablet: Customize what content is displayed and how it's organized. With Windows 8, all your devices will have a similar look and feel.
Optimised for touch
Swipe, tap, drag: Windows 8 is optimized for touch, making it easy to interact intuitively with your content.
Touch keyboard and mouse: Typing feels natural whether you're at your desk or walking around. The new touch keyboard has two modes, making it easy to work the way you want, whenever you want.
One device for work and home
Mobile productivity: New mobile productivity features make it easier for road warriors to stay connected and in control, wherever they are
Enhanced security: Windows 8 provides enterprise-class security capabilities such as Trusted Boot and BitLocker to keep clients secure and protected.
Apps for your life
Built-in and cloud-connected apps: Windows 8 comes loaded with Microsoft Mail, Calendar, SkyDrive, Photos, People and Messaging apps that automatically sync with your Facebook, LinkedIn and Twitter accounts just by adding them to your Microsoft account. Sign in to any Windows 8 PC and your favorite apps and settings will be right at your fingertips.
Windows Store: Search through thousands of apps, all grouped into easy-to-find categories.
Getting Started with Windows 8 app: Learning your way around all these new features is easier than ever. Launch the pre-installed Getting Started with Windows 8 app and you'll be up and running in a flash.
Internet Explorer 10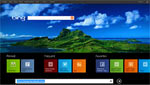 Less browser, more web: With a reduced browser and frame, Internet Explorer 10 lets you see more of what you are looking for.
Fast and fluid: Surfing the web is now as fast and fluid as everything else on your Windows 8 device. Internet Explorer allows for rich and immersive web experience that run as fast as the local apps on your Windows 8 PC or tablet.
Live in the cloud
Connect to your friends and family: Whether you originally added a contact from Hotmail, Messenger, Facebook, Twitter, or Gmail, the Windows 8 People app makes it easy to keep up with everyone from one convenient location.
Your files, wherever you need them: Your photos, docs, calendars and other files are stored in the SkyDrive for cloud access. No more tangled cables or emailing files to yourself.